Our humom loaned her camera. It was returned today so she took some new photos of us to show how much we have grown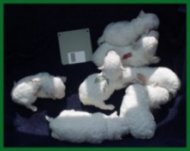 We all appear to be healthy and each of us is gaining weight. We have opened our eyes and are moving around much better.

Mom is leaving us alone longer now. She likes to have people visit and tell her what a good mom she is.