Email


A candle for
Love, Hope & Friendship

To learn more about
Darkel Bichons
Rescues and adult
bichons available


---
Dorothy Wilson
1 Orchard Avenue
Binghamton, New York 13904

---

---
The Bichon Frise is not a breed that is suited for every family. They require time and attention to develop the personalities that have made them popular with many owners. When purchasing a puppy or any animal the owner should be prepared to make a lifetime commitment to that pet. This is a decision that should not be taken lightly or made in haste. Unfortunately, most purchases made from newspapers ads and pet shops are done on impulse without knowledge of the breed characteristics and the advice of a dedicated breeder to help ensure a long and happy relationship between the new owner and his/her Bichon Frise. Impulse purchases often result in the necessity of an experienced rescuer to find new, suitable homes for these dogs. On these pages I will list current rescues that are available with the information that I know about them.
---
Bichons available for adoption from me
1). Have been evaluated to ensure good health and temperament.
2). They have been surgically neutered.
3). All shots have been updated.
4). They have been micro chipped for permanent identification.
---
To qualify for adoption of one of my rescues:
1). I will do a home inspection with the rescue prior to placing a rescue with you.
2). You MUST have a fenced area for the dog to exercise. No exceptions!
3). The rescue must feel comfortable with you and your family.
4). You must agree to not change the Bichon's name.
---
Currently Available:
last update February 18, 2004
---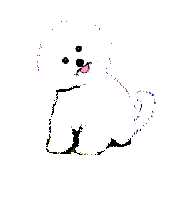 Write to me at DARKEL

---